Giving Opportunity
Austin, TX - Multipurpose Field - San Juan Diego High School
Transform Communities, Change Kids' Lives

Donations to this giving opportunity will be matched 100%
About this Giving Opportunity
Located at 800 Herndon in Austin, Texas, the field at San Juan Diego Catholic High School serves as a cornerstone for the community in South Austin. By providing a safe and clean place for the local youth to play a multitude of sports, the field is an integral part in the development of youth in Austin. This field project is an opportunity to renovate and renew the facilities to current standards, and is still in the planning stages with an estimated start in October 2019. Your generous donation will be matched by Group1001 to complete the project and fund ongoing maintenance costs.
For more information, click here.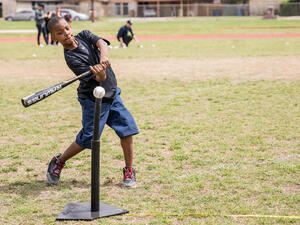 Causes in this Giving Opportunity

Austin, Texas, 78704-5314, United States

Baltimore, Maryland, 21209-0030, United States
How Donations Work
Click any 'Donate Now' button and then decide your donation amount. You will then be forwarded to your payment processor of choice. Once your donation has been processed it will be sent to your charity of choice.
Need Some Help?