Giving Opportunity
Austin, TX - Multipurpose Field - Boys & Girls Clubs of the Austin Area
Transform Communities, Change Kids' Lives

Donations to this giving opportunity will be matched 100%
About this Giving Opportunity
This new field is located at the Boys & Girls Club of the Austin Area (BGCAA) on the Sheth Family Campus at 6648 Ed Bluestein Blvd. The field was recently renovated in partnership with the Cal Ripken, Sr. Foundation. Through these types of partnerships, the BGCAA offers access to the spaces and facilities where it can provide the staffing and quality programming to best meet the needs of each particular age demographic population. The results of these efforts are better students, better citizens, and ultimately, a better city. Your generous donation will be matched by Group1001 to provide and fund the ongoing maintenance costs for the facility.
For additional information, click here.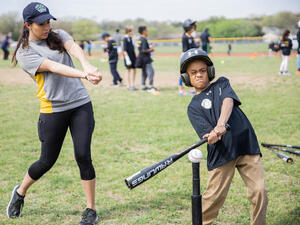 Causes in this Giving Opportunity
Austin, Texas, 78723-0000, United States

Baltimore, Maryland, 21209-0030, United States
How Donations Work
Click any 'Donate Now' button and then decide your donation amount. You will then be forwarded to your payment processor of choice. Once your donation has been processed it will be sent to your charity of choice.
Need Some Help?